This is the start of the main content
Proctor Loan Protector earns Center of Excellence certification from BenchmarkPortal for eleventh consecutive year
For the eleventh consecutive year, Proctor Loan Protector has earned the BenchmarkPortal Center of Excellence certification.
Proctor Loan Protector's insurance call center, known as the Borrower Care Center, uses advanced telecommunications technology and skilled customer service talent in its call center operations. As a provider of lender-placed insurance and insurance tracking for mortgage servicers, Proctor Loan Protector's Borrower Care Center functions as the center of customer interaction for its clients' borrowers.
Mike Cox, CEO of Proctor Loan Protector, stated, "Our clients delegate a lot of responsibility to our team. With that delegation comes a great deal of trust. This third-party designation confirms that the client's trust is well placed and that we will deliver on our promises."
Call centers that have been certified as a Center of Excellence by BenchmarkPortal have met or surpassed rigorous standards of efficiency and effectiveness. The BenchmarkPortal team audits and verifies the center's key performance indicators and compares that data to data from other peer organizations. This designation is awarded to centers that rank in the top ten percent of those call centers surveyed.
Donna Yearego, senior vice president of lender solutions, leads the team that manages the Borrower Care Center. "BenchmarkPortal has provided us with invaluable insights about our Borrower Care Center operations for the past 11 years," she states. "This certification process is well worth the time and effort. We all take a great deal of pride in this accomplishment and are eager to keep improving our borrower care experiences."
Call center leaders who seek this certification are committed to achieving service excellence in the most cost-effective ways possible. Cox credits the leadership and teammates for this success: "I am incredibly proud of the leaders and teammates. Call center work is difficult, and it takes a dedicated, empathic person to devote their career to assisting callers in resolving their issue."
Yearego adds, "The real challenge is balancing caller satisfaction and cost across all key performance -indicators leveraging people, process and technology. It is nice to get feedback from a third party regarding our Agent Satisfaction Survey. Over 98.9% of our call center agents were satisfied and proud of our company and felt satisfied with their job. This validates our strong leadership team, the importance of communication and overall transparency to our teammates."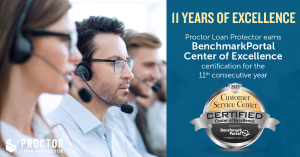 About Proctor Loan Protector
Proctor Loan Protector is a trademark of Proctor Financial, Inc. Proctor Loan Protector provides insurance products and service solutions for financial institutions, property investors, P&C agencies, and government entities. With innovative solutions and service supported by technology and compliance, Proctor Loan Protector operates as an extension of its clients. Proctor Loan Protector is a wholly owned subsidiary of Brown & Brown, Inc. (NYSE: BRO), a leading insurance brokerage firm, providing risk management solutions to individuals a­nd businesses. For more information, visit proctorlp.com.
About Brown & Brown
Brown & Brown, Inc. (NYSE: BRO) is a leading insurance brokerage firm, delivering risk management solutions to individuals and businesses since 1939. With more than 12,000 teammates in 350+ locations across the U.S. and select global markets, we are committed to providing innovative strategies to help protect what our customers value most. For more information or to find an office near you, please visit bbinsurance.com.
About BenchmarkPortal
BenchmarkPortal's activities began in 1995, and it is now a global leader in the contact center industry, providing benchmarking, certification, training, consulting, and research. The BenchmarkPortal team of professionals has gained international recognition for its innovative approach to best practices for contact centers. BenchmarkPortal hosts the world's largest database of contact center metrics, which is constantly being refreshed with new data. BenchmarkPortal's mission is to provide contact center managers with the tools and information that will help them optimize their efficiency and effectiveness in the customer communications. For more information, visit www.BenchmarkPortal.com.