This is the start of the main content
Proctor Financial: Deep Roots & the Pioneer of Lender-Placed Insurance
pi·o·neer
ˌpīəˈnir/
verb
past tense: pioneered; past participle: pioneered
develop or be the first to use or apply (a new method, area of knowledge, or activity).
You've probably heard us say it before: Proctor Financial pioneered the concept of lender-placed insurance.  It's something we always say, so we decided to delve deep into the archives of Proctor's history to learn more about how this product came to be and how our organization evolved over time.
Here's our storied company history, with deep roots in Detroit.
Origins in Homer Warren & Company
Proctor Financial has a long history in the real estate and insurance industry. Proctor's origins date back to 1884 when Homer Warren & Co was in operation. Homer Warren & Co was purchased by Proctor and Company, which eventually evolved into Proctor Homer Warren.
In 1884, Homer Warren was known and recognized as the dean of Detroit real estate men and was the first president of the Real Estate Board.  A fascinating man, Homer Warren was known for his prestige in Detroit real estate as well as his revered singing voice. "The Sword on Bunker Hill" was his go-to song, as it was composed in inspiration of his ancestor during the civil war. He was appointed by President Theodore Roosevelt as postmaster of Detroit. His ancestry can be traced back to the 1630s when his ancestors, the Hookers, helped found Connecticut.
This was the man who laid the early foundation of Proctor Financial today. The publication, The City of Detroit, Michigan Vol. 3 wrote this about Homer Warren: "The career and accomplishments of Homer Warren might well serve as a guide to the younger generations of Detroit business men. Mr. Warren came to Detroit as a young man, with little capital, and here he has achieved progress and high position not alone in the making of a dollar, but in public service and the promotion of those features which have made Detroit a city unique in the land."
Over the years, his business grew, which led to the establishment of the legacy of Homer Warren & Co.
In a simplified timeline: 
1892 – Mr. Warren found it necessary to enlarge his facilities for conducting his business, therefore organized the firm of Homer Warren & Co. (secured with associates Cullen Brown and Frank Andrews).  An insurance department was added to the organization.
1894 – The insurance department of Homer Warren & Co. was taken into control by  the firm of Warren, Burch & Company.
1896 – Upon Burch's passing, the interests of Warren, Burch & Co. were purchased by Cullen Brown, prompting the firm's name change to Warren, Brown & Company.
1914 – Warren, Brown & Company dissolved and the insurance department  rejoined Homer Warren & Co. under the handling of Mr. J. Alfred Grow.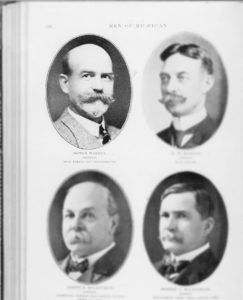 In 1928, Mr. Warren passed and four of his longtime associates (Carl S. Wells, Alfred Grow, Walter L. Henderson, and Harriett D. Kelly) purchased the name and good will of the company from Mr. Warren's widow. 
Over the years, the company grew and prospered in dealings with the public and operating as an agent for one or more parties in transactions involving both real and personal property . Carl S. Wells' son, Homer Wells, took over the company as director alongside his dad.
Carl Wells passed in 1934. Homer Wells passed in 1957. Their deaths  put Homer Warren & Co. on the market.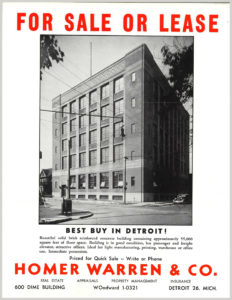 .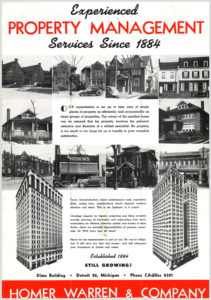 Introducing Proctor & Co.
In 1934, Edward A. Proctor founded the firm Proctor & Company. This company dealt in handling mortgage investments for Acacia Mutual Life Insurance Co. in Detroit. Both Proctor & Co. and Homer Warren & Co. were located in the Dime building in downtown Detroit. In May 1960, Edward Proctor purchased Homer Warren & Co., following its recent placement for sale on the market. Proctor had plans to eventually consolidate both firms.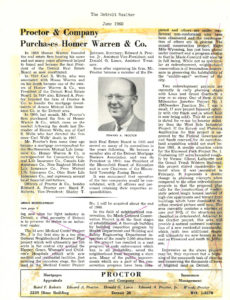 For 8 years, Homer Warren & Co. remained as a subsidiary of Proctor & Co. until August 1968, when Edward Proctor took the plunge and merged both Homer Warren & Co. and Proctor & Co., creating Proctor Homer Warren & Company.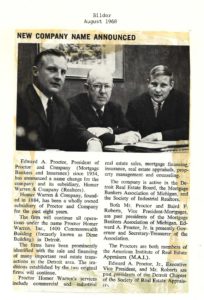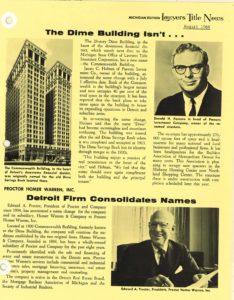 Eventually the Dime building announced its own name change to the Commonwealth Building, which sat in the heart of the financial district of Detroit.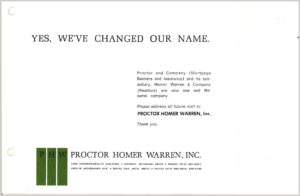 Proctor Homer Warren was led by Edward Proctor until his retirement. His sons, Woods and Edward Jr., took over the company as president and chairman of the board, respectively.
In 1976 the company moved to its own building at 2100 West Big Beaver in Troy, Michigan.  This is where the company expanded its operations to include national mortgage banking and property management, as well as special risk/mass marketing insurance for financial institutions.
Pioneering Lender-Placed Insurance
Here's where lender-placed insurance enters the Proctor story.
In the 1970s, Woods Proctor had a business relationship with a local lender that would request policies on homes when borrowers were not maintaining proper insurance. Woods would drive over to each property, gather underwriting information, and write each individual policy. Eventually, more properties popped up beyond driving distance, which inspired the idea to create a master program for banks. Woods flew to London and pitched the idea to a carrier. The carrier accepted the proposal, and Proctor Homer Warren began the master policy program.
Thus was the inception of lender-placed insurance.
Woods Proctor and Proctor Homer Warren were the first. Everyone followed. This is why we call ourselves a pioneer. 

Woods Proctor and his wife attending a
Proctor Homer Warren awards night.

A Century of Service, A Name Change, and Expanded Offerings for Financial Institutions
1984 marked a century of service with a celebration to honor 100 years of building a reputation of excellence and integrity.
Approximately a decade later, in the mid-1990s, Proctor Homer Warren changed its name to Proctor Financial Insurance Corporation (PFIC).  According to the name change announcement in The Proctor Newsgram: "We will start using the name Proctor Financial Insurance Corp., with a new logo, to more clearly identify our financial insurance divisions for force-placed fire and flood services. Our new name is meant to confirm our commitment to providing the highest level of service to our customers."
Based on the needs of PFIC's financial institution clients, the outsourcing services was added to Proctor's suite of products and services in 1996, which include  insurance tracking , data entry, customer service phone calls, escrow disbursements, and mail opening. Today, Proctor is considered a premier vendor for outsourcing with compliant and streamlined technology and operations.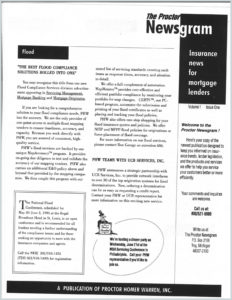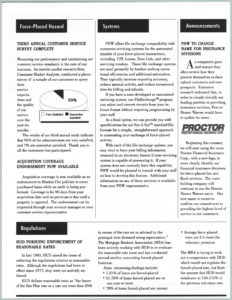 Tom's Tale: Origins of Insurance
PFIC was taken over by Woods' son, Tom Proctor. For those still curious about how insurance came into existence and where forced-placed insurance fits in the picture, he explained in a client newsletter:
Tom Proctor: Insurance became more complicated and as it got more complicated, the need for simplicity increased. Force-placed insurance, in theory, relates back to the most basic insurance principle, and that is the spreading of risk. Insurance is really just a way to spread risk.
The concept can be traced back to Marco Polo's time when traders traveled the route from the "Spice Islands" back to Europe. The voyage took them through the treacherous waters of the Strait of Magellan. Every shipowner was an entrepreneur with his own cargo. If five ships were making the voyage together, they would each take one-fifth of every cargo. So, if one ship was lost, each owner lost a fifth of his cargo-no one lost everything, that's how the idea of insurance got started.
Eventually, Tom Proctor sold PFIC to Brown & Brown, where he assumed an advisory position. PFIC was renamed to Proctor Financial, Inc. which is how the company is known in the mortgage servicing industry today.
A Wholly-Owned Subsidiary of Brown & Brown
In 2004, Proctor was acquired as a wholly-owned subsidiary of Brown & Brown, Inc. (NYSE: BRO). Among the top insurance intermediaries in the world, Brown & Brown invests in Proctor's technology, people and infrastructure to enhance the client and borrower experience.
Brown & Brown is headquartered in Daytona Beach and Tampa, Florida, with origins dating back to 1939. It was incorporated under Florida laws in 1959.  Brown & Brown and its subsidiaries offer a broad range of insurance and reinsurance products and services, as well as risk management, third-party administration, managed health care and Medicare set-aside services and programs. Providing services to business, public entity, individual, trade and professional association clients nationwide, Brown & Brown is highly regarded for its 75+ years of proven experience in providing the insurance programs necessary to properly protect every type of business enterprise.
Value Through Partnership
Proctor's Mission Statement is "to be the market leader, unique in service, unwavering in integrity, and dedicated to excellence.  Through a commitment to establishing partnerships with its clients, suppliers, and employees, Proctor delivers sustained superior performance providing the highest value attainable in its industry."  Value Through Partnership is Proctor's promise to each client: a mutually beneficial business partnership that creates long-term value for both parties.
This mission and value proposition of Proctor Financial stem from the deep roots and pioneering spirit that made the company what it is today.
All information contained in this post were retrieved from the Proctor archives of company press releases, newspaper clippings, newsletters, advertisements.